[ad_1]
The Asantehene, Otumfuo Osei Tutu II, has praised Vodafone Ghana for its enormous support for sustainable development in the Ashanti Region.
According to him, apart from Vodafone's support for the prestigious Asantehene Open Golf Championship, it has introduced interventions that benefit everyone, especially women and children, for which he commended the company.
Otumfuo Osei Tutu II said this when the senior management team of Vodafone Ghana paid a courtesy call on him at the Manhyia Palace last Friday.
The purpose of the visit was to announce plans to extend the sponsorship of the Asantehene Open Golf Tournament, which Vodafone has sponsored for 5 consecutive years since 2017.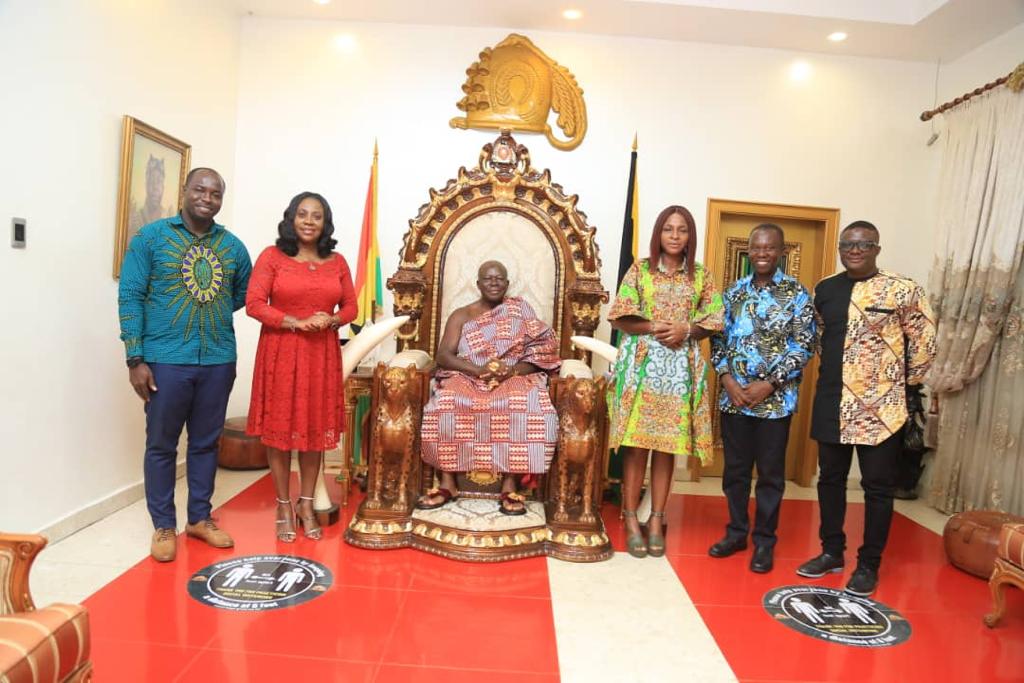 Chief Executive Officer of Vodafone Ghana, Patricia Obo-Nai, who led the delegation, said her outfit is excited to be sponsoring the Asantehene Open Golf Championship for another year.
She noted that the support of the sport was not only to strengthen Vodafone's relationship with His Majesty Otumfuo Osei Tutu II and the people of Asanteman but to promote sustainable development in the region through impactful initiatives.
"This year, we have named the month 'Boa Asanteman' as we seek to address the key sustainable development needs of the region. Together with His Royal Majesty Otumfuo Osei Tutu II's Foundation, we will address several issues. These include promoting healthy lives and wellbeing through our Healthfest initiative; reducing maternal mortality with our free ultrasound screening; driving free and inclusive education for everyone through our Instant Schools activations; empowering SMEs with digital skill training as part of our SME Clinics; and ensuring the environmental sustainability of the region with a tree planting exercise," she said.
"We wish to inform His Royal Majesty that our 2022 Ashanti-month campaign begins today with this official visit," she declared.
Otumfuo Osei Tutu II thanked Vodafone for leading sustainable development in the Ashanti region and also for promoting health and education in the region. He urged the organization to continue its good work.
The Asantehene also used the opportunity to charge the Royal Golf Club in Kumasi to ensure that Vodafone gets the needed visibility as the headline sponsor of the Championship. Meanwhile, Otumfuo has encouraged the golfers and the wider community to patronize Vodafone's products and services.
[ad_2]
Source link